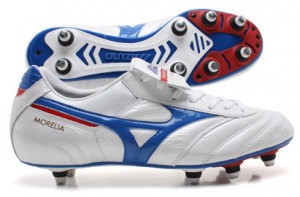 So, here's a pair of cleat that truely gives you the benefits of a quality boot-comfort, feel, suppleness, touch, fit, and stability-and the versitily of a customizable cleat. The Morelia collection, great cleats as molded firm ground boots, great cleats as replacebale 6-studed cleats and even better cleats as an 8-studed soft ground cleat.
I can go on for days about why these cleats are so great, but Hey.. Mizuno is not paying me this, so I'll keep it brief.
If you use Soft Ground Cleats often, or play in wet conditions often that require tall replaceable studs, and want a little bit more from your normal "6-Studs" but don't want too much from "Tunits" this might be worth checking out. Very unique and innovative, yielding superb performance.