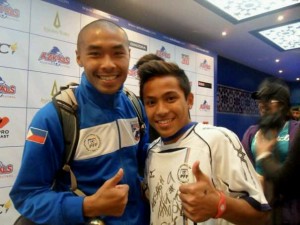 After a long trip to Dubai and Qatar with the National Team, we returned to the Philippines to rejoin our clubs efforts in taking on the UFL League. Jason Sabio, Joshua Beloya and myself landed late Friday night with a couple things on our minds. With a 8 hour flight behind us, the main focus was rest and recuperation, but more importantly we had a very crucial Kaya FC match to concentrate on.
Not having been with Kaya FC for 10 days, took its toll on me and the rest of my Kaya teammates on the road. Focusing on the national team was primary in our effects against two very strong international friendly against Australia's and Uzbekistan's U23 Olympic squads, along with a competitive game against Qatar's Al Ahli Club. At the same time, we knew we were missing some crucial training sessions with our own club. After our defeat against Loyola 2 weeks back, our mission was to get back on track and gain a result against Pasagard. Leaving no team in the league underestimated, we knew we had to come out strong against the new team. Pasagard had surprised the league with a draw against first place team Stallions, so preparations for a defensive styled opponent was implemented.
Having just a short nights rest, the Saturdays match-up with Pasagard came upon us in no time. I was happy to reunite with my club and my teammates. They seem to be in very high spirits as we haven't had a match since the Loyola game,  and training seemed to have been going well. They felt strong and ready for a nice afternoon game. I too was ready to see the pitch as limited playing time with the national team made me hungry from some time. Knowing that my playing time would further be limited in the Pasagard match due to our absence, I patiently supported the team from the sidelines to take in our performance.
All in all, I was glad to have come in late in the game, contribute and really reincorporate myself on a team that has been working extremely hard while I was away.  It was particularly nice to see different players used in different positions and to see some of the progress the team has made. Although there is still plenty of things we need to work on, it was nice to see an different perspective of our game and really refocus on the things we still need to improve on. Most of all, just being back gets me really excited to rejoin our squad and get back to working hard.
Kaya FC beat Pasagard in our 5th match of the 2012 UFL Season.
For More Information on KayaFC, Check out our NEWLY Launch Website KayaFC.COM
For More Articles for Lexton Moy Check out Soccerpirrs.com and Follow him on Twitter @LextonMoy