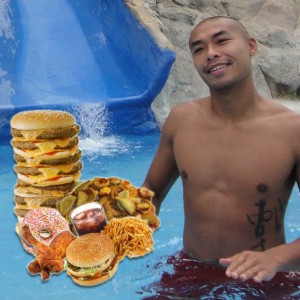 "…Sinking the opinions about Junk Food…"
After returning to Kaya FC for the 2012 United Football League Cup, I had a specific goal in mind for my playing career and for my health in general. In conjunction with playing and performance goals, I really wanted to take my body and health to a new level. The two month stretch within the UFL Cup competition was the perfect opportunity for me to test, implement and accomplish something I have never wholeheartedly committed to 110%.  This is the first installment of my "Body Transformation."
It is a common misconception that all athletes eat healthy. Throughout my playing career at the youth, amateur, professional and international levels I have met many different kinds of athletes that not only perform at different levels but they also perform at these levels with very different eating habits. From my own experience, I can honestly say that my diet has had its fair share of "Junk Food". In this large spectrum of healthy eaters and naughty nibblers, I think I can place myself somewhere in the middle of the table. I am not a junk food addict by any means, but this test made me reconsider and actually think, plan and execute the things I put into my body. Remember, just because you train, workout, or even play professional sports, it doesn't necessarily mean you consume good foods. This stretch allowed me to analyze my knowledge of nutrition and reconsider what I thought was healthy.
There are plenty of guides, diets and nutrition advice out there as to how a person or athlete should treat their bodies in order to obtain their personal and professional goal, but the emphasis and execution of such discipline is something I always found interesting when it came to elite athletes.
So as my first entry on my personal Body Transformation journey, I'll share the first motivation of mine that started this whole experiment.
"Just because you play or perform at a high level, it does not necessarily mean you eat healthy. Just because workout doesn't mean its functional to performance. Just because you look like in-shape, doesn't mean you are healthy."
With these three things in mind, I looked to attack my health habits and really start looking at myself as an experiment. My goal for such an experience was to change the way I approach my own health and to make a lifestyle change for the better. The next several entries will outline my journey with the multiple factors we are all faced with when we approach dieting and exercise, followed by my up to date progress and how this little experiment has changed my life.
Stay tuned for diet plan, workout schedule, healthy eating, supplements, functional training, nutrition information, before and after photos and more…
Read Part 2 of the Body Transformation Series: Routine and Rest
Jump to Body Transformation Sections: