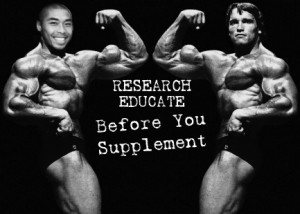 Read Part 3 of the Body Transformation Series: Cutting Out the Bad and Changing Thoughts
Growing up playing soccer as a child and teenager, the thought of using supplements to enhance health and performance didn't even cross my mind. Options for taking powders, pills and drinks were not readily available, and the general opinion about supplements were all negatively regarded to as unhealthy, cheating or even worst: related to steroids  Previously, the quick hype and down fall of steroids left a stigma on the newly emerging market of supplements. In the early 90's, with the popularization of Creatine, more investment poured into industry, opening a huge flood of products that guarantee health and performance benefits. And now we find incredible research into creating the healthiest and to most efficient health supplements to achieve all health related goal.
Back then, as a teenager competing in High School, in Club competition and for the Olympic Development Program, the only "supplement" I ever took was a hydration tablet, which contained electrolytes, salts, sugars and vitamins. Having taken this tablet, secretly in one game, I had this incredible feeling of doing something wrong and that I had cheated or did something terribly illegal. I now know that when I was 16, I took a tablet from of our common everyday sports drink.  Now, forms of this are not seen as dangerous or illegal, in fact, they are absolutely imperative to hydration in competition.
This adolescent experience of mine showed me a couple things. Firstly, it showed I grew up in a time where supplements where not so popular yet, and taking something as simple as a sports drink in pill form seemed taboo, unacceptable or wrong. Secondly, it showed how uneducated and uninformed I was about what it was I took along with not knowing what was actually offered on the market.
My next significant supplement experience was during this same time. My sister had just gone off to college and was playing on her varsity soccer team. She explained that she started taking Creatine. At the time I had no clue what that was or what it did, all I knew what that she claimed it made stronger. Back then I was frighten by the amount of pills she had to take, in order to "load up" her body on Creatine and still I had feelings that there was something not quite right with it. This notion that being able to ingest something to make you stronger didn't add up… In those days…
This experience with my sister's Creatine showed me that, although I was reluctant to try them at the time, I did have a growing interest in what they did, and how they could help an athlete like myself.
Fast forward to modern times and we see hundreds of different supplements that offer to enhance performance in all shapes and forms. I am pretty sure it is safe to say that in today's day in age, young athletes no longer have this stigma or fear of supplements and there is a general interest, intrigue and desire for something that could benefit their performance. From the simplest, sports bar or sports drink to the most scientific workout formula, all of these product create a hype around what athletes can consume in order to gain that little bit of edge.
The main difference between now and then is the desired for enhancing supplements is widely accepted and promoted, thus there is an incredible amount of money waiting to be made in this sector of business. Whether it is companies that plays on our inhibitions to be competitively healthier or better, or it is our own desire to maximize enhancement or results, either way we have found ourselves in a perfect combination of consumers wanting or needing such supplements and companies providing them.
Looking back at these situations, and having learned a thing or two in biology and sports physiology in college I can give one advice when it comes to supplements: Do your research. Know exactly what your health and performance goals are, understand how your body generally works, and understand how these supplements work with your body. I can't reiterate how important it is to understand the products you consider in terms of what they claim, what they do for your body and how you use them. It is important to have a critical eye when it comes to products being sold as the majority of them are not regulate or have been tested by the Food and Drug Administration.
Jump to Body Transformation Sections: