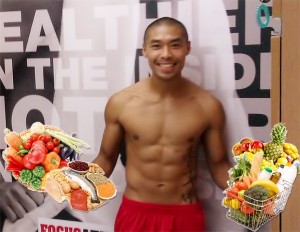 After a two months spell of consciously altering the way I view health and fitness and after reexamining my values and previous health habits, I've realized some very important about my own health.
In the past, physical fitness was always a result of my profession. My approached to fitness and health has been for a specific focus in order to achieve results pertaining to playing performance. What really opened my eyes to my overall health was the fact that my eating and lifestyle habits outside of performance didn't reflect the same values. My first step in changing this was an honest and genuine examination of what we as consumers are provided along with the choices we offer ourselves when it comes to a healthy decision making.
Through this process, I challenged the way I thought and I challenged my previous lifestyle that I have gotten so used to. My goal wasn't necessarily to completely alter my life to something different. There wasn't in dire needs for a weight loss, I didn't have high cholesterol nor was my health in immediate jeopardy, but I really wanted to accomplish something I wasn't completely aware of previously. I really hoped that the experimental period would allow me to make some small but significant changes in the way I think about everyday consumption and leisure fitness.
I think in the back of my mind I knew that if my general health in terms of eating and working out were to be based on playing and simply the result of performance, there would be a problem when playing was no longer a profession. Too often we see retired players continue their unhealthy diets only to kind themselves in poor physical condition. For me, these two months happened to a the first step in beginning the way I choose to eat and my opinions about training and working out.
I think for me, the biggest thing was knowing and understanding that there is always choices to what we consume. Education myself and finding ways to make better choices are now beginning to be a positive and rewarding daily challenge. It might seem a bit harder to search for alternative foods, but its really an impossible feat. In fact I am hoping to be able to continue to learn about different developments in the health industry and educate myself not only for the purpose of performance but for a general wellness as well.
Along with the baby steps taken towards eating better, I think I have really found a new appreciation for working out, in conjunction with and separate from playing performance. Beginning to work out with a leisurely mindset was the second considerable lifestyle change that will continue past my playing years. This really reunited me and rekindled my initial motivation for physical fitness and brought back an different kind of inspiration for working out, that was somehow got lost in my drive to purely workout for performance results.
I am glad to say that my two month body transformation has given me significant results, both mentality and physically. I can now continue both on my hunt for healthy food alternatives and leisure workouts, as positive and motivating challenge to overall wellness and ultimately finding a rewarding satisfaction mentally and physically.
Jump to Body Transformation Sections: