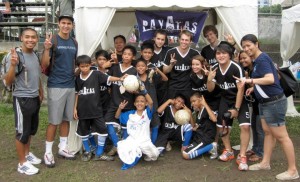 This past Saturday, teammate Nate Burkey, member of the Philippine Azkals and I had the most wonderful soccer experience, that truly brought us back to some great childhood memories. August 20th marked the opening competition for an unlikely group of footballers here in Manila.  For the past six months a group of children from Payatas, Manila's lastest garbage dump site, have been meeting once a week to do something most normal kids take for granted. For the children of Payatas, education, health, hygene, and support are scarce and many look to the darker sides of life to find drug induced glimpses of joy. Each week they are given the oppurtunity to meet in a safe enviorment where the harsh daily grind of scavenging acres of rubbish seemingly disapears for at least a couple hours, and the joys of being children again comes to visit them in the form of a Soccer Ball.  The love, support and care provided to the small percentage of Payatas children come from a group of passionate people that formed the Fair Play For All Foundation (FFA).
The Fairplay For All Foundation works to empower the street children of the Philippines. Registered in the UK and funded as Triple E (registration number 1141362), Fairplay for All (FFA) runs football teams in Kasiglahan and Payatas as a way to develop the community and raise awareness through football, after the rise in popularity of the Azkals, the national men's team of the Philippines. Payatas… is the largest dumpsite in Manila where tens of thousands of people live scavenging for things to sell, recycle and even eat.
With just their first soccer competition underway, the organization will look to expand their work beyond the sport to reach what is at the heart of the problem amongst this growing population plagued with poverty.
FFA is also opening a drop-in centre for street children in order to assess their situation on a case-by-case basis. Providing for the nutrition of street children, to break drug dependency (particularly rugby), basic education will continue their learning and provide a platform to assess their situation. With a fully qualified and experienced social worker we will then look to provide full-time residential care, education sponsorship, or micro-financing depending on the reason for the child being on the streets. As such, FFA looks to enable, encourage and empower street children and raise awareness of the poverty of communities to promote Fairplay on and off the pitch.
On Staurday, Payatas FC finished 9th overall in the Under 13 age bracket, out of 33 local team from around Manila with an impressive 3-1-1 record.  With loves, and support from volunteers, other teams and local bystanders the boys of Payatas displayed a performance guided by pride, brotherhood and teamwork. The Fair Play For All Foundation not only gave them a means to enter the integrated communtiy through friendly competition, they gave them a place for growth, education, happiness and a true family.
The Spirrs Team is a Proud Supporter of the Fair Play For All Foundation and Co-Directors Naomi Tomlinson and Roy Mooore. I had the great pleasure of meeting Naomi and Roy, along with broad member Jacques Palami, dedicated members of their volunteer team, and each one of the valued members of the Payatas FC U13 Team.
For more Information on the Fair Play For All Foundation please visit their Facebook page
HERE
. Please be sure to Click "LIKE" and share the link with with rest of your Soccer
Pirrs
.
For the latest updates on Naomi and Roy please visit their blogs for upcoming events, volunteer oppurtunities and ways to support the FFA.
Please be sure to Follow Me on Twitter @LextonMoy to keep undated with all that is going on with the Philippine Azkals, Kaya FC, and my experiences living in Manila and Traveling Asia!