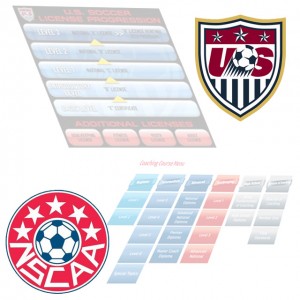 Often times there are questions and confusion about how to get coaching certification for soccer at all levels of competition, whether it be youth, high school, collegiate, amateur, or professional. So we've put this together to paint a clearer picture on how to obtain coaching credentials, and get you started on your coaching education journey.
"What organization offers Soccer Coaching Credentials or Soccer Coaching Courses? What are the differences between NSCAA and USSF? Are they equivalent? What is the difference between a Soccer Coaching Diploma, a certificate, and a license? Where and how can I register for, attend and obtain my soccer coaching credentials and certification? How long does it take? How much does it cost? What prerequisites experience do I need? I've never played before but I want to coach my child or learn more about the sport, and be able to teach my developing child how to play. I have basic, intermediate, amateur, or professional soccer experiences and now I want to coach soccer. Where do I start?"
If any of these question ever crossed your mind, continue reading to gain more insight on the process of finding the right education plan and course of action for you. Many aspiring soccer coaches come from different playing levels and all will have a slightly different goal in mind for the coaching education. Some will want to coach at the highest level, some might just want to coach their children, some might be for fun and some might need certification for their chosen career path.  Either way, here's a quick guide on how to get started.
First we will take a look at two very important organizations. First,  is the Unites States Soccer Federation (USSF) and second, is the National Soccer Coaches Association of America (NSCAA). Both organizations offer various certifications at different playing levels, both organizations require slightly different prerequisites, both have their own set of testing and acquisition of certification. Let's start with an overview of the two organizations and a map of their certification levels.
United States Soccer Federation
This U.S. Soccer Federation is the governing body for soccer in the United States as recognized by FIFA. The national body is the foundation and building blocks of the country's National Teams and the organizer of various leagues/competitions. Below is the map of the USSF's coaching licences as displayed from Basic to Level 3 along with addition licenses specified.
The U.S. Soccer Federation has a 38-year tradition of certifying soccer coaches at various locations around the United States. U.S. Soccer Federation is committed to providing soccer coaches, from beginner to most advanced, with up-to-date theoretical and practical knowledge, so coaches across the United States can ensure that players develop to their full potential. The diagram below shows the current U.S. Soccer National License progression.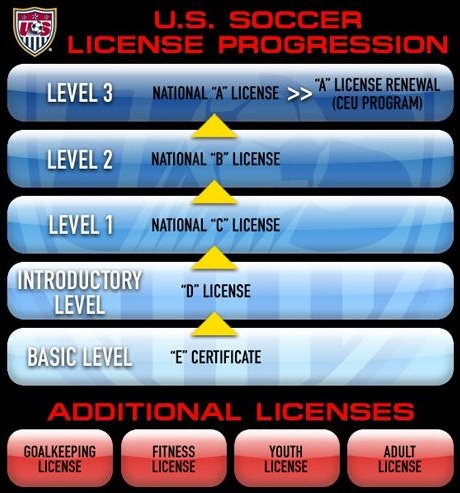 National Soccer Coaches Association of America
The National Soccer Coaches Association of America (NSCAA) is the largest coaches organization with over 22,000 members. The NSCAA renown for its "Largest Gathering of Soccer Coaches in the World" during its annual coaches convention that offers a variety of on-field and classroom educational sessions, along with hundred of merchants displaying the latest in soccer equipment and services. Below is a map of the NSCAA's NEW diplomas displayed in various levels and specific areas. (See the next section for the FORMER NSCAA Coaching Course Names and their NEW equivalent credentials now)
The NSCAA prides itself on providing an unparalleled nationwide program of clinics, courses and other educational opportunities that motivates coaches to take their careers and the game of soccer to the next level. From the novice coach to the well-seasoned, the NSCAA strives to provide comprehensive instructional sessions to enhance the game through great coaching.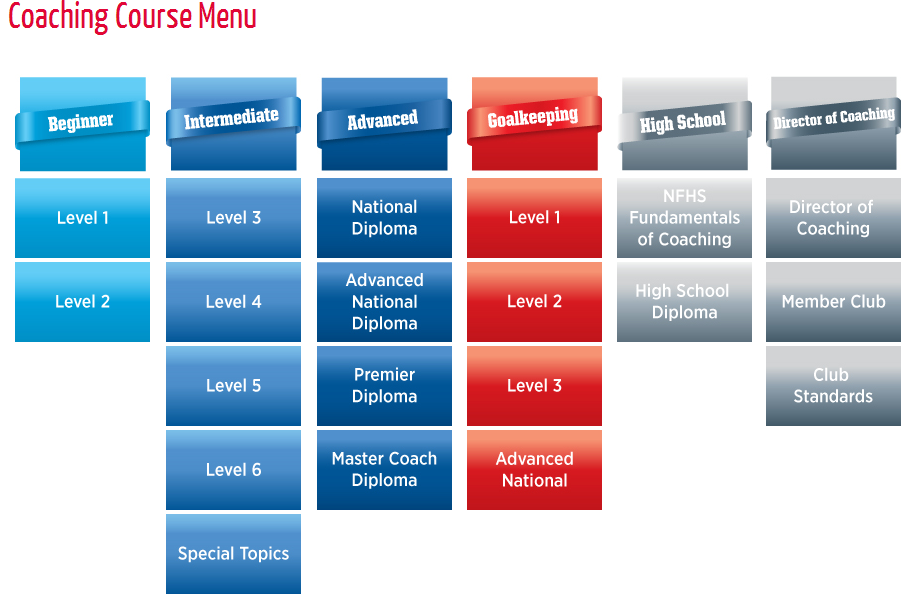 Previously, NSCAA Coaching Courses were named State, Regional, Advanced Regional, National and Advanced National Diplomas. So, what are the Beginner, Intermediate and Advanced equivalences  What previous courses are now Level's 1-6?
 Next, we will look at NSCAA's new course outline and how each name has changed from years past.