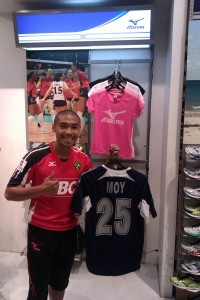 Over the last year, I have played for 2 very important teams that would change my life forever. It has always been a special part of any player's dream to bare his or her name on the back of a jersey. From the first jersey a player receives when they were a young child to the very last jersey they put on, having their name on the back is a dream realized no matter what level they play at. Playing in the Philippines and wearing a "Moy 25" jersey has really altered my perception of what it means to represent yourself and what it means to represent the team you play for.
For me playing in the local league in the Philippines and playing for the national team meant something more than just a collection of people on a pitch. For me the collection of players, both foreign and local, young and experienced, all contributed to a big developmental stage in the history of Philippines football. To represent my club, Kaya FC and to represent the Philippine Azkals, meant representing a progressive step in history. To me the initiatives that past and present players have taken for the common goal of development surpasses any collection of names and numbers.
I hold close to my heart and cherish the opportunity of having my name and number on a jersey, but the shirts printing will never surpass the meaning of the club, the crest, the country, the flag and what they all stand for. Pride, sweat, and tears manifested in others is what we players work for and there are plenty more people unnamed and people around the world that we get the great chance to represent when we step out onto the field. Our friends, family, loved ones, fellow countrymen and the entire reputation of the sport are the things we as players represent. My experiences over the last year, really allows me to recap, reflect and remember the bigger things in life that drive me, that motivates me, and the allows me to do what I love most.
Stay tuned for more on my playing, traveling and cultural experience in the Philippines.
Special thanks to Mizuno for being an integral part of Kaya FC and contributing to a nation's progress as the former sponsor of the Philippine National Team.