Several week ago I had the great pleasure of visiting the Munin Sports US offices here in New York City. I'm excited to share their newest soccer rebound training equipment; Munin Sports' M-Station Talent and Academy. The M-station Talent is smaller backyard version for individual and team training and the larger M-Station Academy version is more suitable for club and facility training. Here's what we found out about the exciting new product some are calling the "Rolls Royce of Rebounders."
With the speed of the game increasing and the technical demands of the game forever raising, finding the training edge has never been so important. Sport science along with technological advances have shot soccer training into a new stratosphere. The pursuit of quality, innovation, precision, and beauty might have met its match in Munin Sports' new soccer rebounder. Both design and practicality have seamlessly come together to create an efficient training tool for aspiring players, teams, and clubs around the world.
The buzz is in the rebound. Munin Sports' M-Station boast a 95% rebound effect. Compared to other rebound nets, walls, blocks and platforms, the M-stations bounce back force is truly superior. The "recoil" and instant generation of force onto the ball places the M-station at the top of it's competition.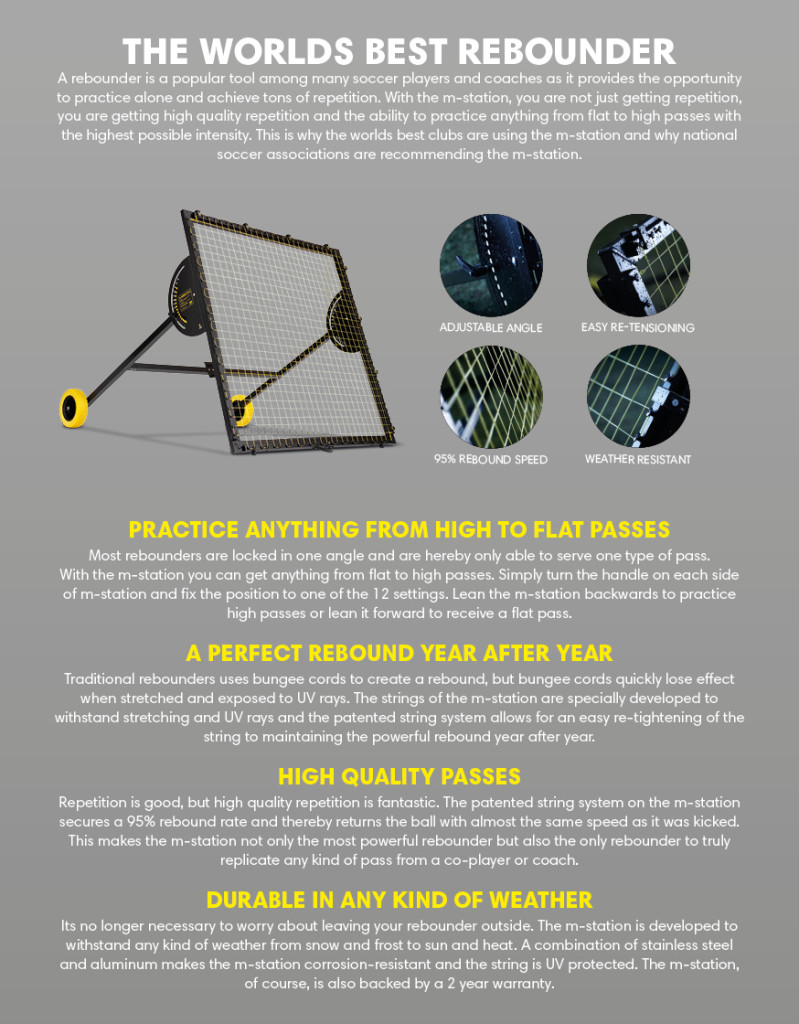 Since Munin Sports came to market, many profession clubs and football associations have taken notice. With the Danish Football Associations' raving reviews, the Munin team took their M-station Talent and Academy to Manchester United and Arsenal. With purchase ordered from Real Madrid, Charleston, Everton, Benfica, Bayern Munich, and Ajax their product is has proven it's worth to the best in the world.
After a meticulous design process and producing it's first wave of M-Stations, that Munin team dedicated its efforts in creating a true technical development program to coincide with the equipment. Their holistic approach to product development stems from technical excellence and that is reflected in the App Munin has created that supplements the product. Using technology found in our everyday smart phones, the Munin Play App allows players to record, baseline and track improvement while accessing fun and innovative drills. This combination of hardware and software becomes and power training tool for players and coaches.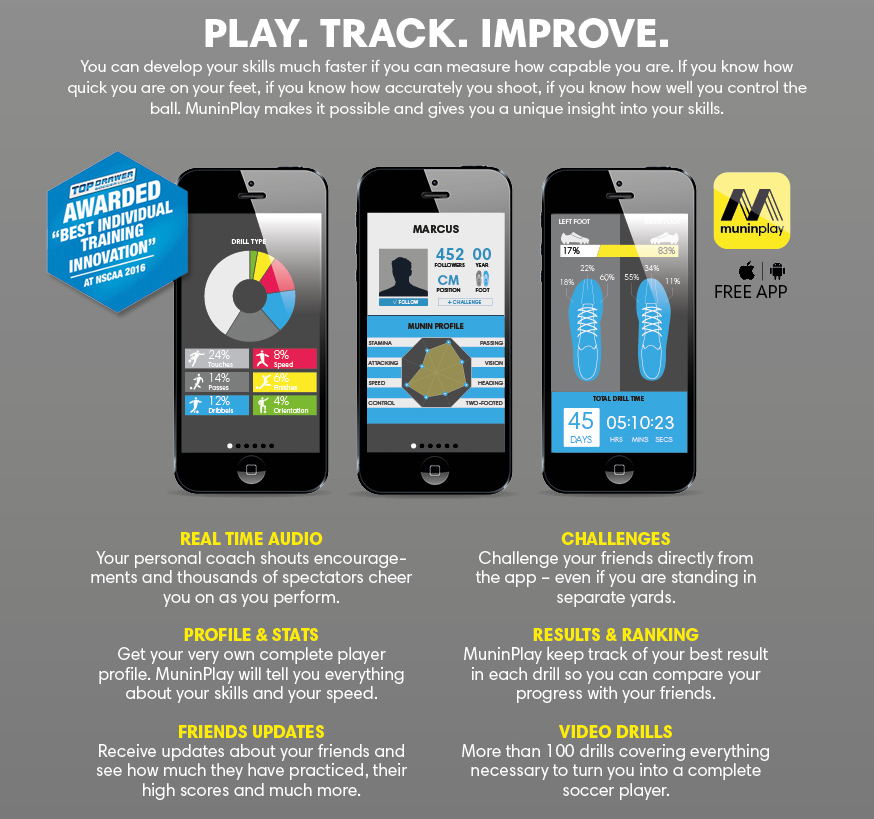 Our appreciation for material, ingenuity and attention to detail is what grabs our attention in any product. For Munin Sports to merge the proven traditional aspect of technical repetition for skills development and the newest software application for training in such a beautiful way is quite impressive. We at SoccoerPirrs enjoy the quality and care that has been put into such a training package and we look forward to seeing what Munin Sports has to offer in the new future! Until our next visit to Munin Sports, see how their Equipment + App are taking the the soccer scene by storm: M-station, iphone/Android compatibility, drills database, skills challenges, social media integration, development tracking and much more.
Stay tuned for more on Munin Sports.
The Spirrs Team is a Proud Supporter of new innovative products and services that have visionary goals of improving players, parents, coaches and the games as we know it.
Discover What's out there. Inform Yourself. Inform Others. Contribute to… Passing the Word Around. TM
For more Information on Munin Sports please visit: Muninsports.com
To download Munin Sports Free App visit: MuninPlay