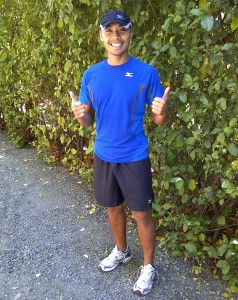 For years now, Cooper has been an avid recreational running. Her passion for running has been a staple in her daily routine and her workouts almost always involves running. She has always express her dreams of running a marathon to me and I have always supporter her from a distance. With my routine as a footballer, I my training has always reflected performance goals and performance gains. Training for me has always been catered to playing. That was up until recently where I have taken a different approach to health and fitness. In light of changing eating habit and reexamining my lifestyle, my new exercise philosophy began to merged with her passion for running natural.
I won't lie, previously I hadn't been a fan of just running. My pinpoint vision for performance training really hindered my ability to go out and enjoy running. Or perhaps it was my attitude or perspective on training that really stopped me from truly loving the open road. Either way, I have to say running has changed the way I look at fitness and fitness has changed my outlook on simply running to enjoy running.
I guess I can't really say where the transition happened, but somewhere along the lines I began to slow down enough embrace the leisurely components of running.
For many soccer players and athletes in all other sports, I think the switch happens when we stop seeing running as something we have to do and it slowly becomes something we want to do.  Much like any exercise activity, some one might simply never enjoy running, some might chose cycling or swimming, lifting or a different sport. Which ever it is, as long it it brings you some kind of enjoyment, benefit, challenge and satisfaction, I think you're on the right track to finding a leisurely exercise activity beyond needing to or having to it for performance gains.
I'm just happy I can now begin to understand, share and participate in something Cooper is so enthusiastic about.
We have now signed up for our every first marathon together and will be running in the Laguna International Marathon. Check out who we decided to make it extra special with the Run Beyond Borders