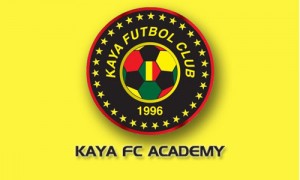 On October 16, Kaya FC launched their Youth Academy at Manila's University of Makati.  The morning was filled with excited children from every age group ready to hit the field. The day started early as parents anxiously registered players. By 9am, groups of players separated by age groups started to form, and distinct levels of players were beginning to show. It was surely an exciting moment for the players, parents and coaches to see the energy and enthusiasm brought to the event.
I had the wonderful opportunity to work the Under 10 age group, and meet some extraordinary young players. These bright young players truly represent the sport in it's most honest form. It is extremely rewarding to see new skills learned, fueled by their curiosity and their determination. With fun and enjoyment instilled in the sport at an early age, we really begin to see the potential it has on developing young players to love the sport.
To get a sense of what Kaya FC stand for, here's their vision and mission for the future of football in this country:
The Filipino word KAYA mean "We Can" and in Alibata, the ancient Filipino language, "Susi Ng Kapatiran" or key to brotherhood. Both of these definitions provide the basis for KAYA FC's team spirit and vision as a club when it was founded in 1996 by Rudy Del Rosario, Robert Kovach, Christopher Hagedorn and the late John-Rey Bela-Ong.
The Goal of the club was to become the most respected men's football club in the country; to provide a training ground for players with the desire to help in the development of Philippine Football; and focus on instilling a positive approach towards respect, loyalty and determination for the team and society as a whole.
This youth academy launch not only marks a very significant time in the clubs history but a crucial turning point in the development of football in the Philippines. With the new found appreciation for the sport, we are in the position to make incredible strides towards becoming a Football Nation. It starts with passion, love and enthusiasm for the sport, but most importantly it starts with FUN. I believe if a level of fun can be achieved in and around the sport, the sport will thrive for generations to come.
I am glad I have the chance to contribute to the hard work and dedication Kaya FC has set forth for the development of youth football in this country and I look forward to seeing the number of youth players grow.
To find out more information on Kaya FC's Youth Academy Check out their Facebook Fan Page: http://www.facebook.com/KayaFC
See Below for Youth Academy Training Near You! With the Kaya FC Players working closely with the experienced Academy coaches, we can't wait to see you and your children apart our team. UNA KAYA!