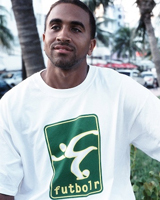 Gotta Give a BIG shout to my man Mabricio Wilson creative visionary and founder of FUTBOLR. A New Yorker and fellow neighbor in the great Great Big Apple, Mabricio has transformed a casual street wear image into an rapidly growing lifestyle brand, for soccer players and fans around the world. Learn more about Futbolr and what the label has to offer. Check out Futbolr.com.

About the Company: Futbolr is about helping people look better off the field, while still being able to represent the essence of soccer. The magic of soccer has captivated the world and the futbolr brand aims to capture the magic of the game. Ever living Ever Faithful.
Futbolr Vision: Futbolr is a lifestyle brand that reflects the global passion for the beautiful game of soccer. Our goal is to create imaginative and fashionable clothing that captures the artistic greatness of the futbolr. We believe that soccer is about more than just the game itself. It's more than just a sport. It influences all areas of life and has the unique ability to bring people together.
The Spirrs Team is a Proud Supporter of new innovative products and services that have visionary goals of improving players, parents, coaches and the games as we know it.
Discover What's out there. Inform Yourself. Inform Others. Contribute to… Passing the Word Around. TM