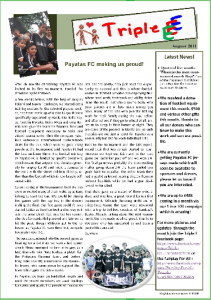 This is the exciting update for the Fair Play for All Foundation. Just a couple months ago, the foundation celebrated their one year anniversary. The celebration included the long awaited official opening of the new drop in center located in the heart of Payatas and home to Payatas FC and the FFA.
I was honored to be given the opportunity to experience and be apart of the opening ceremony. Much like opening ceremonies in businesses and companies, the day represented the official start to a new beginning and a true first step forward. Though Roy and Naomi's hard work, dedication and persistence had started long before the opening, this day was a special moment to everyone involved. It signified the birth date of their vision already in motion and their mission already making progress.
For me, it was a true privilege to experience the day that included an award ceremony for the players of Payatas FC for their performance and commitment to the sport and to their team. The feeling of camaraderie and teamwork that united an entire community truly filled every moment. It was also nice to play in a little friendly match between myself teamed up with Nate Burkey versus the Payatas FC kids. We even lost to little developing players, who displayed wonderful skills and fierce determination.
The ribbon cutting for me truly made me feel a sense of pride and appreciation for what Roy and Naomi have done. It made me realize their willingness to share such a significant day with others. They reminded me that such a momentous ceremony for the drop in center was just a small piece to the work they do. It showed us all that the center will remain only a physical structure that is incomparable to its meaning. To them both, the kids of Payatas, and the entire community the safety, the education and the care they provide will remain at the very core, and no ceremony can ever outshine their sweat and tears poured into their work.
Check out the Fair Play For All Foundations News Letter below and Stay connected with all that is going on with their organization.
At the moment Naomi Tomlinson has been nominated for the UK's "Charity Women of the Year" Award for her work with Tripple E, the Fair Play For All Foundation and Payatas FC. Please stayed tuned for more on her amazing journey.
For the latest updates on Naomi and Roy please visit their blogs for upcoming events, volunteer opportunities and ways to support the FFA.