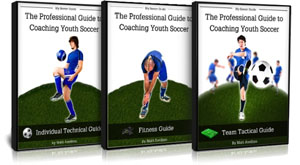 Newest Player in the field of Individual Development, Youth Training and Parent Coaching .
MySoccerGuide Powered by Matt Avellino Enterprises is proud to present it's newest Soccer training series. This innovative training method bring together progressive, step-by-step process for players, parents and coaches to systematically improve skills, tactic and physical fitness. The Spirrs Network is proud to announce the long awaited launch of MySoccerGuide: The Professional Guide to Coaching Youth Soccer.
What's All the BUZZ behind the Training?
The highly motivating book was written for hard-working players trying to improve their game, dedicated parents looking to help their child practice at home, and volunteer coaches that are interested in becoming more knowledgeable in soccer and improving their team.
The book uses verbal descriptions, hand-made diagrams, and home videos to fully demonstrate every drill and technique of The 10 Stage Progressional Training Program. This training program begins with young players and systematically takes them through 10 stages of soccer development. It is a progressional training program because the players must learn the basic drills first in order to build on them and perform the more advanced drills. These stages are not only described to players, coaches, and parents through words, diagrams, and videos; the age specifications of each stage are included, in addition to every skill used during a game. All guesswork is taken out of the equation! Players who complete The 10 Stage Progressional Training Program will be playing soccer with technical mastery, tactical precision, and a high level of fitness.
SPIRReview and Who's the Man behind the Method?
The author of this book, Matt Avellino is neither a professional author nor a professional publisher. He is a professional soccer player and coach. His specialty isn't hidden in something he is not. The language used and the instructions demonstrated makes the series easy to understand and easy to use. The series is set up in a way very similar to how coaches speak to players or parents speak to children. It is down to earth and it gets to the point without confusing terminology or overly complicated training patterns. It gets the right information to it's audience directly without complication. The series is direct and effective for players, parents and coaches to follow, as the valuable information can be used and implemented as soon as they leave the computer. I enjoyed the videos included. They depicted highly dedicated players with various skill levels, which is very motivating for anyone watching them. Overall, the instructions, videos and 10 step process easily breaks down the most essential parts of improving ones technical, tactical and physical ability as a soccer player.
For more information on The Professional Guide to Coaching Youth Soccer Please Check out MySoccerGuide's Website at www.mysoccerguide.com
To Learn more about each of the 10 Step Developmental Method Click on the links below.
The Spirrs Network is a proud supporter of the MySoccerGuide in it's pursuit to develop youth players across the country and around the world.