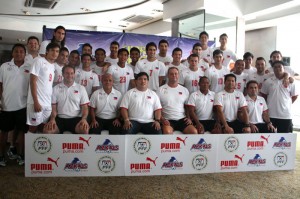 On June 4, 2012, the Philippines Men's National Team signed a 3 year contract with Puma at the Discover Suits Hotel in Manila. This was a big day of Philippines Football Federation along with their Senior Team, more commonly know as the "Azkals." For any teams, transitioning from one brand to another means a few changes in marketing but a huge  surge in interest from the general public, especially for fans around the world. The buzz around my teammates signing as brand ambassadors had to have been the highlight for me. Seeing the exciting new chapter open for these iconic players in the Philippines really humbles a person and makes you appreciate all that comes with playing the beautiful sport. The Philippines' progress has been a long time coming and plenty of players, coaches and fans have dedicated their lives to improving such a process. I  am lucky and bless to be apart of the adventure.
Puma new kit provider for Azkals (Posted at 06/08/2012)
Source: ABS-CBNnews.com http://www.abs-cbnnews.com/sports/06/08/12/puma-new-kit-provider-azkals
MANILA, Philippines – The Philippine Azkals have inked a deal with shoe and clothing manufacturer Puma to be the provider of their kits for the upcoming AFF Suzuki Cup in November. According to ASEAN Football, Puma has tapped Azkals members Ian Araneta, Misagh Bahadoran and Carli de Murga as its lead ambassadors. The sports apparel firm will also be the official provider for replica kits, fan wear, and other merchandise. The Azkals were previously with Mizuno. "We're looking at that when the team kit is ready, so that's around August. But we're doing a fashion show in Greenbelt (Makati) to present the official team kit (for home and away games) and some lifestyle products that will be endorsed by our ambassadors," said Maria Theresa Ronquillo-Santos, Puma Philippines' assistant vice president for sales and marketing. "The Azkals have been a legend in Philippine football. They've done so many changes in the way people perceive the sport. And now people look at it as fun and exciting unlike before when we cannot even fill up a stadium." The 2012 AFF Suzuki Cup 2012 will kick off on November 24.