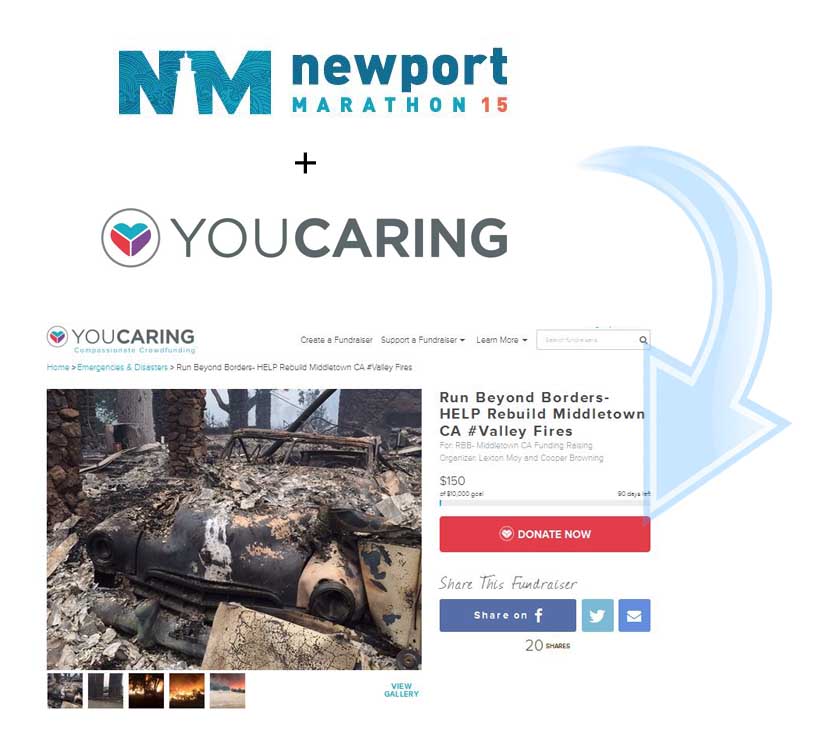 We are officially running the Newport Marathon in Rhode Island on October 11th 2015 to help fund raise for the relief efforts of the devastating Valley Fires that raged through Middletown California.
Please help us raise money to rebuild a community that means so much to us! For more information on Run Beyond Borders and this special project visit the RBB links in our top menu. Donation links can be found throughout and in our sidebar. Please consider donation today. We appreciate ever effort and contribution.
On October 11th 2015, Cooper and I will run the Newport Marathon, in Rhode Island. This will be our second Run Beyond Borders Project and this one really hits home. Just north of the Napa Valley there is a town called Middletown right before you reach Lower Lake. This town is situated in between the more notable Calistoga and Hidden Valley areas of California. For nearly 2 decades, Cooper's family has resided in Middletown and St. Helena and made these small towns their home. On Sept 12th 2015, a raging fire that started on Cobb Mountain stormed through Middletown and engulfed everything in its path so quickly, many barely escaped before the evacuation was mandated. What was named #Valleyfire consumed over 70,000 acres of land leveling over 500 homes and buildings. It is estimated that 13,000 people are displaced, gathering at various shelters and fairgrounds until it is safe to return to their properties. A large percentage of these people will have no homes to return to, only smoky remains of the structures and memories they once called home.
Regardless of it's size, Middletown is home to a football loving community that thrives on local business, neighborly support and generations of hard working families. The devoted community is centered around the Middle School, High School and newly built Elementary School; promoting youth development through rich athletic, agricultural, farming and trade programs is something that Middletown prides itself on.
Rebuilding and returning the town back to normalcy will be a project for many years to come. Many of the homes, buildings and local businesses will have to start from scratch, but the strength of the community and the hearts of it's people will make Middletown thrive once again. However, for now they need our help to raise awareness and support, both physically and through funding raising.
On October 11th, we will run for MIDDLETOWN! ALL of our donations will go towards reconstructing Middletown. Our family and friends stricken by the Valley Fire have been enduring the recovery and we will do everything we can to help raise funds towards restoring this close knit community. Partnering with the Cowpoke Cafe and Diamond D Ranch, our aims are to help the town feel our collective support through local businesses while working with the Middletown Community Board to direct relief efforts.
HERE'S HOW TO HELP
DONATE: We set up a crowd-funding page through YouCaring.com that will be the platform for all donations. Visit YouCaring.com/RBBrebuildmiddletown and make a contribution.
SHARE: Please share our donation link and our story using the  links below.