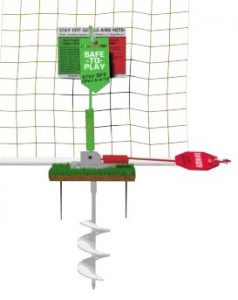 Recently, I had the chance to meet the Creator and founders of Goal Alert, Greg Dempsey. In this day and age, with millions of children participating in organized sports, there seems to be great hype around sudden triumph and sudden tragedy. As our sports transcends to new heights and the performance level of youth athletes soar, we often see the dangers of the game magnified; Baseball and lacrosse players struck in the chest, Soccer players with various head injuries, players injured and even killed by equipment. Although we cannot hide or escape the dangers of the sport, there are growing companies out there dedicated to keeping players safe. As the innovative creator of Goal Alert and Goal Secure, it's simply explained in the slogan, "it's a life preserver for your soccer Goal." Through out my years of playing and coaching, windy conditions, uneven fields, and unsecured surfaces have made the "goal" a big liability causing injury and even death to unsuspecting players. The question becomes: Are the necessary precautions taken when preparing a safe soccer field? Statistics show 30 death by goals in the last 3 decades and many more stories of other injuries relating to goal malfunction. Goal Alert and Goal Secure are one of the leading manufacturers of goal fixture devices and is a fast growing main stay in the market of Soccer goal safety.
About the Company: Earth Grip manufactures staking devices that affix to soccer goals. The mission of our company is to stop soccer goal tip over deaths and injuries. We manufacture Goal Secure which is an innovative staking solution for soccer goals. Goal Secure can be installed in minutes and soccer goal moves then take seconds.
About the Creation: In 1983 a school friend was put into a coma by a soccer goal tipping over on him and then in 2003 a 5 year old boy was killed in a neighboring town. At that point, we started the company.
The Spirrs Team is a Proud Supporter of new innovative products and services that have visionary goals of improving players, parents, coaches and the games as we know it.
Discover What's out there. Inform Yourself. Inform Others. Contribute to… Passing the Word Around. TM
To Learn more about Goal Alert, Please visit Goalarert.net and Goalsecure.net.
For Videos and Article, Click Here.