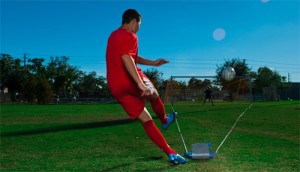 Just this past week, I met creator of the Soccer Shot, Tim Luby and had a chance to check out his new Soccer Training Device. Over the last couple decades training products have change the way players, teams and coaches practice at all levels.  One such skills, mastered and transformed through the years has been the "Free Kick". Throughout time the Free Kicks have mesmerized fans as bending balls allude defensive wall and Goal Keepers alike. The secrets of mastering the free kick has been a quest for many players, coaches and trainers and over the years we have seen some pretty innovative tools that seek to unlock this technique. So when I came across this new device,  I knew I had to check it out.
The Soccer Shot is a simple training device that tool that "shows the goal and obstacles right in front of the ball so players can visualize and build the targeting mechanism while keeping his/her head down as they strike the ball for a pinpoint perfect shot." Simply put, it marks the frame of the goal, and provides a close obstacle in front of the ball that replicates a life size Free Kick wall to scale. Check out the Soccer Shot in action.
The Spirrs Team is a Proud Supporter of new innovative products and services that have visionary goals of improving players, parents, coaches and the games as we know it.
Discover What's out there. Inform Yourself. Inform Others. Contribute to… Passing the Word Around. TM
For More Information on the Soccer Shot visit TheSoccershot.com
What do you think of the Soccer Shot? Please leave your comments, questions, concerns and opinions about this product below. Get the conversation started and keep the ball rolling… Let us know what you think!