In the last decade there has been a growing concern for the safety of athletes that participate in relatively unprotected contact sports such as soccer. The debate continues as the industry constantly learn about the products performance and whether the had been an adverse effect on the game. Ongoing research and statistics will give the general public a clearer picture on the products scientific claims, but  skeptics explain that there needs to be more examination on the sports safety reputation, that might strike the fear in parents giving them a heighten dangerous perception of soccer, along with a phenomenon know as "superman effect" to which player might display reckless aggression.
Whether this type of product helps or hurts the sport, we can all learn a lesson from the implementation  and enforcement of the shin guard. Perhaps one day this will be another mandatory equipment. Perhaps it will be proven insignificant. Or, perhaps the debate continues, and a it remains a questionable optional accessory. Either way here are some product features of three popular products offered: ForceField, Full 90, and Hat Trick.
ForceField Features: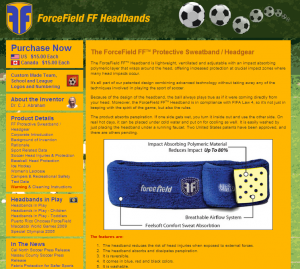 The headband reduces the risk of head injuries when exposed to external forces.
The headband absorbs and dissipates perspiration.
It is reversible.
It comes in blue, red and black colors.
It is washable.
The headband can be placed inside protective helmets used in other sports such as a batter's helmet, bicycle helmet, goaltender's ice hockey helmet, professional jockey's helmet etc. This will significantly add to the reduction of the risk of a head injury. (see Test Data)
The only protective headband designed for the sport of basketball.
Protective headband for children's recreational play.
Full 90 Features: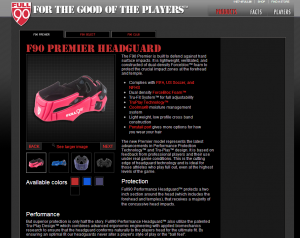 Complies with FIFA, US Soccer, and NFHS
Dual density ForceBloc Foam™
Tru-Fit System™ for full adjustability
TruPlay Technology™
Coolmax® moisture management system
Light weight, low profile cross band construction
Ponytail port gives more options for how you wear your hair
Hat Trick Feature: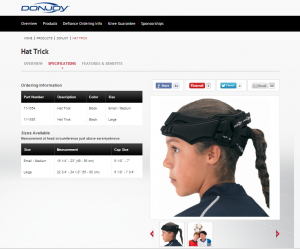 Meets every performance requirement in ASTM F2439, "Standard Specification for Head gear Used in Soccer"
Permitted by FIFA, the U.S. Soccer Federation, and National Fed. of State High School Associations
Impact-absorbing foam layer covers and protects the forehead and temples without altering ball rebound speeds.
CoolMax liner fabric accelerates moisture evaporation to keep the head cool
For more information on the premier protective headgear please visit their respective website below:
The Spirrs Team is a Proud Supporter of new innovative products and services that have visionary goals of improving players, parents, coaches and the games as we know it.
Discover What's out there. Inform Yourself. Inform Others. Contribute to… Passing the Word Around. TM
What do you think of the soccer protective headgear? Please leave your comments, questions, concerns and opinions about this product below. Get the conversation started and keep the ball rolling… Let us know what you think!