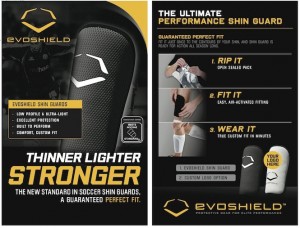 Remember when Osi Shin Guard first exploded onto the Soccer market? There was a sure frenzy around the new futuristic customizable Shin Guard available. At the time, the soccer scene has seen nothing like it and major sporting corporations along with smaller privately own companies were off to the races to make the best custom molded Shin guards. Today, there is a NEW big hitter on the market that not only reinvents the custom molded shin guard but takes it product line beyond soccer and truly has transformed the way we thinking of "Protective Clothing."
About the Company
"The company now known as EvoShield, LLC was established in 2006. The initial team was comprised of achemist, a cardiologist, and a group of former collegiate and professional athletes with a mutually unconventional idea; comfortable sports equipment. For the past 5 and a half years, this passionate team has been tirelessly designing a revolutionary material that will change the world of sports protection. Unlike today's primitive "one-size-fits-all" sports gear that is made of stiff plastics and bulky foams, Evoshield's body-conforming Evoshield technology raises the bar. Our high tech, lightweight material is a creative fusion of 5 layers of fiberglass resin, that reacts to oxygen. When formed and fully hardened, the armour takes the impact of a ball, hockey puck, or other obstructive objects and disperses the energy through its 5 layers, lessening the probability of injury."
Technology has really driven us to take a closer look at texture and functionality of its materials, it's protective abilities and it's performance enhancing qualities. With safety, protection and comfort that drives it's innovative designs, EvoShield is revolutionizing the way we consider athletic apparel.
The Spirrs Team is a Proud Supporter of new innovative products and services that have visionary goals of improving players, parents, coaches and the games as we know it.
Discover What's out there. Inform Yourself. Inform Others. Contribute to… Passing the Word Around. TM
For more information about EvoShield visit EvoShield.com
To See EvoShield entire product line in Action visit their Youtube Channel HERE.