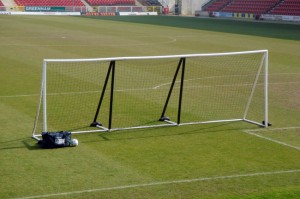 Just recently, I sat down with Managing Director Hans Johan Bos of Sports Structure International. He gave an inside look at their new product line that has swept the nation with it's innovative approach toward creating a soccer goal. With the technology industry booming, we see product designs that seek new materials and creative engineering, but Han's special company found a more simple resource when creating their latest soccer goals: Air. Together with a a world class design team, the company was able to incorporate the very thing we breath into a sturdy structural piece of hardware they call the iGoal.
As the world's first inflatable goal, REDYSET has truly transformed the way we think of a Soccer Goal. Much like pumping a ball, Han's demonstration of the inflating goal quite literally blew up.
About the Company:
REDYSET is an innovative company using newly developed technologies to manufacture high quality inflatable portable football goals. The company is made up of ex-professional sportsmen and those with proven track record in business all of whom are passionate about their product. Tommy Caswell from Redyset recognised the need for a time saving goal – he has spent many cold hours putting up and attaching nets to goals for his son's football training. "There must be a simpler way" he thought and went on to develop the IGOAL over a two year period.
IGOAL is a new revolution in soccer which will provide both professional and amateur players with a portable goal which can be used in any location in seconds. Each IGOAL comes with pre-attached net and packs away in its own bag for easy storage and transportation. The IGOAL has been developed over a two year period along with partners in engineering and quality control who have a 20 year experience in international manufacture and distribution. All the components are tried and tested and widely used in different areas of industry. Amateur football leagues and recreational players will also find the IGOAL adds a new dimension to their enjoyment of the game. With initiatives from the UK government and other international agencies to increase sport for all. The IGOAL will help more children and adults to play football. REDYSET are continuing to develop their range and will be looking to launch new and exciting products into the sporting arena in the future. The IGOAL is now undergoing BSi testing and will then be tested by an FA approved testing centre. We aim to introduce the IGOAL to all professional clubs in the UK for use within their respective academy and community programs.
Stay Tuned for the igoals newest product… A Street ready, pick-up soccer mini goal set. Highlighted at the NSCAA Convention this January the product equipped with an inflatable small sided goals, packed in a stylist back-pack ready for a quick game anywhere.
The Spirrs Team is a Proud Supporter of new innovative products and services that have visionary goals of improving players, parents, coaches and the games as we know it.
Discover What's out there. Inform Yourself. Inform Others. Contribute to… Passing the Word Around. TM
To Learn More About iGoal visit igoalusa.com
To See More Videos of the iGoal in Action Click HERE.