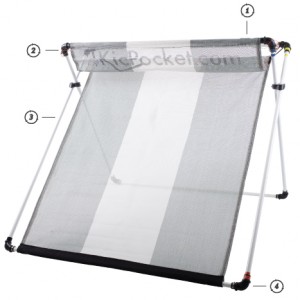 At the NSCAA just last month, I had the great opportunity to meet up with Josh Gaudin, founder of One v One Sports and creator of the KicPocket. Seeing the need for a training equipment that helped children learn and practice necessary skills, Josh and his company looked to create a product that would allow players to continuously practice their fundamental technique through uninterrupted repetition. Through a carefully crafted and innovative design process they created the simple "Pass Return System".
About the Company:
We started One V One Sports with you the player in mind. Growing up playing soccer our whole lives, we wanted to find a better approach to practice our passing, shooting and general soccer skills. With the KicPocket, soccer players can now work on all areas of their soccer skills without chasing down soccer balls all over the yard and driveway. Started in Florida and now based in Augusta, GA, One V One Sports is dedicated to manufacturing and selling only durable, long lasting products that help athletes fine tune their skills.
Stayed tuned for One v One Sports new line of products as their dedication to youth training and skill development drives the company's creative direction.
The Spirrs Team is a Proud Supporter of new innovative products and services that have visionary goals of improving players, parents, coaches and the games as we know it.
Discover What's out there. Inform Yourself. Inform Others. Contribute to… Passing the Word Around. TM
For More Information on the KicPocket Please Visit KicPocket.com
To See the KicPocket in Action or See KicPocket Drill Click HERE.
What do you think of the KicPocket? Please leave your comments, questions, concerns and opinions about this product below. Get the conversation started and keep the ball rolling… Let us know what you think!