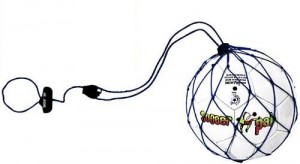 The Soccer Pal known and recognized by most players and coaches was one of the first soccer training products I've ever received as a young player. I remember vividly when my dad came home with the Soccer Pal. It was the new training device that I mostly used for transporting my ball. As a child, I thought it was the coolest thing to just be able to tab and touch the ball with my feet while I walked to school or practice. It made transporting my ball fun and kicking the ball at home just a bit more manageable.
Now that I look back at it, the Soccer Pal was quite innovative for its time. A couple decades ago, this was just one of a handful of soccer training products available. Then, the technology and popularity of the sport didn't support a large enough market for soccer training aids in comparison to today's industry. The Soccer Pals simple design and effective usage really made the product a hit. We now find a whole section in soccer training aids department dedicated to similar devices.
Technology and product innovation has transformed this simple concept into a competitive market. Others have made their creative contributions to the evolution of the Soccer Pal, yet the products honesty is not forgotten and it still thrives among young developing player as a simple "ball bag you can train with."
Check out this infomercial from back in the day… Enjoy!
The Spirrs Team is a Proud Supporter of new innovative products and services that have visionary goals of improving players, parents, coaches and the games as we know it.
Discover What's out there. Inform Yourself. Inform Others. Contribute to… Passing the Word Around. TM
What do you think of the Soccer Pal Training Aid? Please leave your comments, questions, concerns and opinions about this product below. Get the conversation started and keep the ball rolling… Let us know what you think!