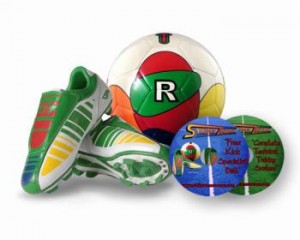 Can you remember years back, perhaps in elementary school, middle school or even in high school, when physical education class was the highlight of your day?  Remember the basketballs cleverly marked with a "hand print" so that children can learn how and where to place their hands. Imagine that simple concept transformed to fit the growing need of skills development in youth players for the game of soccer. At the NSCAA convention, I had a chance to speak with creator of the Strike Zone, Paul Gallagher about his new soccer training product. With today's specialized profession in the field of Physical Education, Coaching, and child development we see many innovative learning aids that take cognitive understanding to a whole new level. With more of an emphasis on systematically teaching skills and technique, educators and product inventors alike look to reinvent the teaching and learning models to reflect the ever changing sport.
Why did Strikezone decide to use color in the Visual Training Aid system?
Studies suggest that color is a basic and vital factor in memory retention. Color, as a reference guide, is understood by all age groups, whether you are a young player, a coach, or a parent. As coaches and trainers, it is crucial for us to know how to use color to our benefit. Color affects memory by imprinting a feeling to go along with it. When you see a certain color, an association is imprinted in your memory. It can be a feeling, smell or sight or even an action. The Strikezone Complete Technical Training System uses the visual reference of color to reinforce certain actions, in this case it is soccer's basic techniques. With our system, players will associate the green part of the shoe to push pass, the red part of the shoe to drive the ball, the blue part of the shoe to cross and chip, the yellow part of the shoe to bend, and the orange part to swerve. As players perfect these basic skills, they can move to more advanced skills that require 2 or more moves by remembering which colors to use in the combination.
The Spirrs Team is a Proud Supporter of new innovative products and services that have visionary goals of improving players, parents, coaches and the games as we know it.
Discover What's out there. Inform Yourself. Inform Others. Contribute to… Passing the Word Around. TM
To Learn More about Strike Zone Products Please Visit StrikeZoneSoccer.com
What do you think of the Strike Zone? Please leave your comments, questions, concerns and opinions about this product below. Get the conversation started and keep the ball rolling… Let us know what you think!