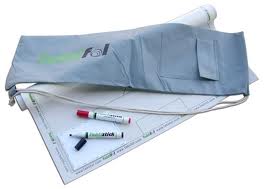 The trusty game board used by coaches across the world has proved it's reliability over the years. We often see the tradition stiff clip board type of equipment, but with the invention of dry erase marker and other materials, there are whole new products that look to solve other problems when it comes to cumbersome coaching necessities.  At the NSCAA Convention, I came across the Taktifol, a unique product that takes coaching board to a new level. The Taktifol game board utilizes electrostatic dry erase synthetic sheet that can virtually be applied to any surface, drawn and erased on, and best of all it folds like a sheet of paper.

About the Product:
A clear advantage for soccer trainers, especially at away games. You won't have to carry a tactic board or deal with the inconvenient handling of stickers and glue sticks. Simply tear off a Taktifol sheet, hang it up and start the tactics discussion. Taktifol also offers the possibility to pre-prepare essential information at home with permanent marker, and then show changing variations with the erasable tactic-pen marker on site. Taktifol offers all the advantages a modern medium can have. A roll has 25 sheets, which are easily separable at the perforations. Every sheet is 24×32 inches. Due to the electrostatic charge, Taktifol can be removed several times from common surfaces without leaving any trace.
The Spirrs Team is a Proud Supporter of new innovative products and services that have visionary goals of improving players, parents, coaches and the games as we know it.
Discover What's out there. Inform Yourself. Inform Others. Contribute to… Passing the Word Around. TM
For More Information on Taktifol Please Visit Taktifol.com