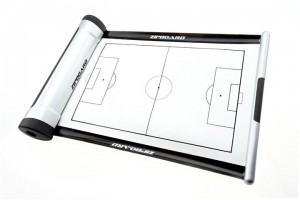 A while back we wrote about a convenient  white board that took the tradition concept of a pen and clipboard to new heights. The Takitifol allowed team meeting and presentation to be made on the go. It was particularly useful for soccer but its versatility went beyond just game we love, with applications to other sports and industries.
At this year's NCSAA convention you might be able to catch a similar product that takes this 'old school' clipboard concept to a different level. The Zipborad is new accessory that helps coaches of all sports travel, discuss and coach from the palm of their hands. The retractable design of the Zipboard allows the coach to roll out game plans, along with any other points to outline for players.
So, if you're looking to ditch the flat clipboard for a roll the Zipboard might be for you.
The Spirrs Team is a Proud Supporter of new innovative products and services that have visionary goals of improving players, parents, coaches and the games as we know it.
Discover What's out there. Inform Yourself. Inform Others. Contribute to… Passing the Word Around. TM
For more information on the Zipboard visit www.thezipboard.com