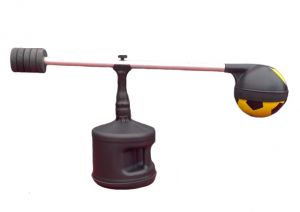 From the time a player ever kicks a soccer ball, ideas of the ball being kicked from off the ground is implanted in their imagination. The awe and excitement of a developing play discovering that the ball does not have to roll but rather it can be manipulated above the ground is what this next training aid is all about.
After inventor Steve Leen used the front end of a broom as a replacement for a soccer ball to practice his juggling skills, is astonishingly discovered that he has a useful training device. With personal success in improving his own juggling skills, Leen past on his contraption to his family and it eventually became a product on the market. Used to improve touch on the ball and skills with juggling, the Zero Gravity Soccer device allows a player to adjust the "weight" of the ball, it's flight speed and its direction, a few useful variables in juggling a soccer ball.
As beginners might find it very difficult to juggle a soccer ball, the Zero Gravity creates a closed environment for the players to get used to the initial steps in acquiring such a skill, by providing a controlled framework.  The product's motto is "We don't build machines, we build confidence."
"0g Takes the Struggle Out of Juggle… 0g Soccer's patent pending variable gravity trainer decreases the speed and range of motion of the ball providing the Athlete with more touches, less frustration and a rewarding practice experience"
The Spirrs Team is a Proud Supporter of new innovative products and services that have visionary goals of improving players, parents, coaches and the games as we know it.
Discover What's out there. Inform Yourself. Inform Others. Contribute to… Passing the Word Around. TM
For more information on the Zero G Soccer- Variable Soccer Trainers, visit 0gsoccer.com
What do you think of the  Zero Gravity Soccer First Touch
? Please leave your comments, questions, concerns and opinions about this product below. Get the conversation started and keep the ball rolling… Let us know what you think!