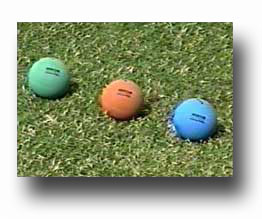 "The 'Magic Pill' to finding your touch…"
With a clear and focused mind ready to start training and jump back into the rhythms of pre-preseason and pre-season, I decided to use the "small-ball" as the main equipment to sharpen up my touch. Many of you might have experience, worked with or seen people training with this "small-ball." And if you haven't tried it yet, and you are serious about training, developing and improving your touch, you certainly need to have this be apart of your training.
So, what is this magical method? Quite frankly, there's nothing extraodinary about it. Simply put, you training with a ball significantly smaller than the current size ball you compete with. It can be a different size and a different weight or even a different material that effects the bounce or speed.
How to? and Why we do it?
Very simply, you perform all the same technical skills as you would practice with a normal ball, except with this different ball. This includes all technical skills from your feet all the way to your head: dribbling, passing/receiving, shooting, heading. Areas that small-ball training is particularly effective in is passing and receiving out of the air. This includes volleys, half-volleys, and work with the thigh, chest, and head. You can use anything from a skills ball (size 1.5 or 2), tennis ball, foam hand ball, or sponge ball be creative and make it challenging. I choose to use a rubber bounce ball that is smaller than a size 3 or a rubber size 2 ball that is weighted a bit heavier. This way the size, weight, and the type of bounce is altered. But remember when you get efficient and good with that this small-ball, be sure to change one of these attributes, so that you can maintain a challenging training method.
When training with a ball of different size, weight and bounce, you are subjected to a different kind of stimulus and therefore a different type of training. Your senses and perception of the ball are effectively heightened and you become more sharp. Concentrating on a smaller object will make your touch more efficient and more accurate.
So, if your looking to sharpen your touch and increase your accuracy try a small ball. And remember be sure to tell us how your working with it. Cheers!
What do you think of the Small Ball? Please leave your comments, questions, concerns and opinions about this product below. Get the conversation started and keep the ball rolling… Let us know what you think!