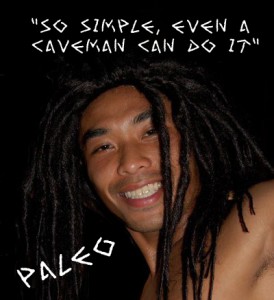 In our transition to the Paleo lifestyle (no we are not trying to live all primitive, but eat and live simpler) I am learning how to; a)eat meat and b) not drink cow's milk which in result means to decrease my coffee intake- yikes! The rest of the diet is a piece of cake for me (almond flour cake, yum!) stocked full of all my favorite things to munch on; veggies, fruits and nuts galore!
My big challenge of no dairy happens to be a breeze for Lactose intolerant Lex, and Lex's challenge of no gluten is no problem for me seeing I'm Gluten intolerant, so this transition should be easy with the support of each other. Last night as we shared our first intentional Paleo meal, we actually have them all the time without realizing, we vowed to help each other get past our personal weaknesses following the motto "if you never try, you never know…"
Our first Paleo Meal looked like this: Pork chops, steamed greens and salad.
Other recipes to look forward to this week:
-meatballs with zucchini, onions and greens
-Fish Tacos, salad and Baked Plantains
And… drumroll….Banana pancakes! Yes, a pancake made only from banana and almond flour J
Let you know how they turn out!