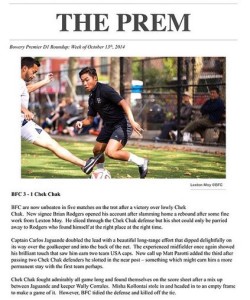 Having retired from playing professionally in 2013, the game hasn't ventured far from my vicinity. Between coaching two youth travel teams, the game remains a constant reminder of where it began. Although developing young aspiring players give me thrill of playing, there is nothing like knocking the ball around, getting a sweat in and playing with quality players. Since returning to NYC, the Bowery Premier League has been a consistent outlet for me to sneak away from daily life to revisit playing. The BPL is now known for its high level matches located in Chinatown between squads of former collegiate, professional, international players.
Over the decades the Chinatown soccer scene has transformed itself from a local minority weekend sport to a daily mainstream movement. League games can be seen throughout the week into the night hours. Many see today's growth of the sport in this ethnic ghetto we call Chinatown but only a few fully understand soccers roots that date back to the 70's.
It brings me great pride to have been born and raised in Chinatown. I grew up playing on the softball field of Columbus Park and the homeless haven know as "Forsyth Park" where soccer was a Sunday morning only event. Seeing the growth of the sport in the neighborhood means we are truly becoming a soccer nation. Chinatown not only carries local pride it now carries a dominant soccer reputation.
Check out the Bowery Premier League. Perhaps you can catch me playing for 1st Born Athletics on Weekends or New Amsterdam FC midweek.  You would be surprised who you might see on the pitch! Among the reunion-like get togethers of former teammates, professionals from all over also make their secret cameos on these fields.
Stay tuned for more on Chinatown Soccer, it's past, present, and future.