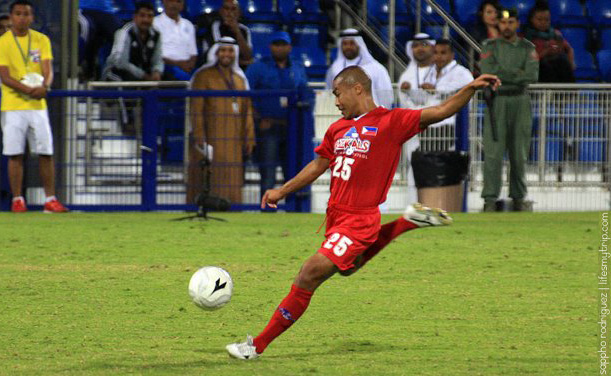 I grew up playing soccer in New York City. My soccer career has always reflected my origins and is deeply routed in the concrete playgrounds of Chinatown. Growing up watching my father play with the local athletic association, I have always been inspired by the forefathers that ingrained the sports into the city. My enthusiasm for soccer development and cultural appreciation has shaped the course of my professional playing career. My passion for the sport along with my experiences have taken me around the world and transformed my performance on the field into something I can share. I created the Spirrs Network so that aspiring and experienced players, parents coaches and fans, can share invaluable soccer  information and continue to inspire us all through the beautiful game.
2011-2013 Philippines Men's National Football Team (RP)
11 Senior Caps
2011 Long Teng Cup Silver Medalist
2012 Challenge Cup Bronze Medalist
2012 Peace Cup Champions
2013 Lam Ieng, Macau
Campeonato da 1 Divisão do Futebol
2011-2012 Kaya Football Club, Manila, Philippines
United Football League First Division
2009-2010 Tai Chung Football Club, Hong Kong.
BMA Hong Kong Professional First Division Football League.
2007-2008 New York Athletic Club, New York, NY.
National Premier Soccer League
2005-2008 Long Island University-Brooklyn, NY.
NCAA Division I Men's Soccer Team- Captain, LIU Scholar-Athlete of the Year.
2003-2005 Rutgers University-New Brunswick, NJ.
NCAA Division I Men's Soccer Team
2007 Laredo Heat Soccer Club-Laredo, Texas USA.
National Champions. United Soccer League (USL) Premier Development League (PDL)
2000-2005 Nationally ranked youth team, Merrick P.A.L Soccer Club (MAGIC)
Merrick Red Storm (Academy) and New York Freedom (Super Y-League)
1998-2002 Olympic Development Program (ODP) New York State Team and the U.S. Region I ODP Team.
1999-2003 Friends Seminary HS Varsity
Player of the Year (Sophomore) and Two Time League MVP (Junior and Senior)
Previous:
Manhattan Soccer Club
Manhattan Kickers
Downtown Soccer League