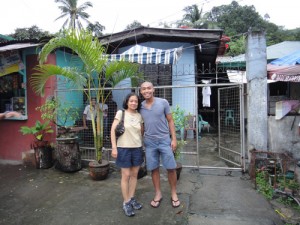 My mom arrived to Manila just a few weeks ago. The last time she was in the Philippines was when I was just an infant about 26 years ago. Much to her surprise a lot of things have changed, yet a lot has remained the same. Excited to visit her family in a long awaited reunion that spanned over a quarter century, she embarked on her mission to reunite with everybody. With my training and game schedule, I was unable to make the first rounds with her to meet and visit everyone. Perhaps it was better that she saw everyone alone before I joined the party. I felt it might have been necessary that she had the proper time to catch up, and rekindle the relationships of cousins and relatives, before I over shadow the reunion with meeting people for the first time. Either way, I think it worked out for everyone.
On her second trip to Olongapo, I was excited to join her and meet my other cousins for the very first time. So, we took off on a Bus to Olongapo, taking the "scenic" route or what was describe to me as the "curvy" way. It was pleasant seeing the towns on the way up the mountainous terrain.  It was also quite nice to get away from the hectic city of Manila. When we arrived near by, my mother's neighbor and life long friend picked us up, and drove us to Gordon Heights. We were taken around the town and brought to the house my mother and father had bought when they first settled in together. At that time my sister was just born and the location was situated conveniently for my moms family and the Subic Bay military base my father was stationed at.  Until now, our relatives and cousins have been sharing the house and it holds quite a lot of history to our family.
As I was explained how things used to be and told stories of who was who and who did what, a picture of the past began to form. It was like I was sent back to see and feel a slice of family history as it was preserved in the very first home my mom and dad bought and where my sister was born. My uncles, aunts and cousins and I met, spoke and interacted. It was wonderful to finally meet family from what seemed like such a far place growing up, and now that I am living in this new part of the world, I truly feel that this gap between relative is slowly coming together. I really feel privileged and lucky to be able to embark on such a journey. I feel it was necessary to not only know our distant family members exist, but it is truly special when you can see, live and experience their different ways of life.
For me this was a wonderful experience. Furthermore it was absolutely fantastic  to see my moms excitement and the energy on of the day. Stay tuned for more to come, on my second visit to Olongapo.