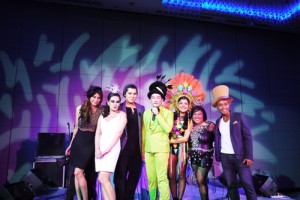 This January 24th, 2012, I turn 27 years old. Since I was a young boy, I never really put too much emphasis on my own birthday. It was never something I really looked forward to, nor did I truly ever buy into the day being all that special for myself. Perhaps it was the way I was raised or maybe I just didn't like the attention of being the birthday boy. Either way, I always had this lingering question in my mind that asked, "Why should today be so special for me?" Who determined that on the day of my birth I or others should celebrate me? It has always made me feel a little awkward and out of place when I even consider doing something for myself or even have others do something for me, on my own birthday. But this year I participated in two particular birthday celebrations that truly change my view about such a day we label as "birthdays."
On January 21, the head writer of ABS-CBN's ASAP 2012, Garlic Garcia, celebrated her birthday by building houses in Payatas, Quezon City. For those unfamiliar with Payatas, it is one of Manila's largest garbage dump sites, and home to over 60 thousands people, families and children who scavenge the trash as a means of survival.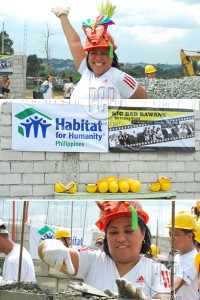 Garlic Garcia chose her to call her birthday celebration the "Big Bawang Birthday Build." Organized through Habitat for Humanity, she funded the birthday project to create homes for the less fortunate and invited stars from the industry along with family and friends for this great event. The rows of housing complexes will signify a site where new starts and futures can be realized and dreams can come true. To use this day for something more meaningful then just the day of her birth, truly inspired me. It really gave me an alternative view to the possibilities of what this day can be used for.
What was truly an incredible feeling was experiencing the love, the joy, the smiles and hard work that poured out of everyone that participated in the days task of brick laying. Garlic was able to harness the love and compassion of her friends, family and loved ones to create something productive in the community and contribute to creating new lives for those who need it the most.
The day ended with cheers, happiness and satisfaction, both physical and emotional. We left the grounds building only half of the walls to a row of houses, but we were able too see the potential and significance of what those wall mean. For a child, for a parent and for a family we contributed to the foundations of a place they will called home.

Later on in the week, we went to a very special Birthday celebration that further inspired me, and allowed me to view birthdays in a totally different light. Tim Yap, Manila's most celebrated eventologist, TV host, and editor brought about his birthday celebrations with close friends and loved ones in a highly anticipated Mad Hatter themed ball.  The star studded event displayed costumes, hats and head dresses from all walks of life and it really represented the multitude of cultures, characters and flavors that make Manila so vibrant.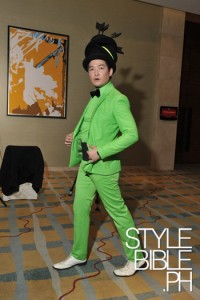 Though the spotlight remained on the birthday boy, Tim reminded everybody, whom he calls "His Loves" that this celebration is meant to be shared with everybody who has shaped his life. As he looked across the room to see his many friends and close acquaintances, you can feel the inspiration that Tim has brought to the hearts of everyone. The mutual love for Tim and Tim to his friends collectively stole the night and it was clear that bringing people together is what Tim does best.  Having people experience others and sharing a common goal to interact, to learn about, and experience the lives of other people, is what inspired such a magnificent person from the very beginning and his continual drive to share this message truly attributes to his major success today.
Believing and staying true to what you believe and manifesting those values in all that you do, whether it is through your careers or simply through your own birthday celebration is something I was reminded of this year. Garlic Garcia and Tim Yap inspired me and I know for proceeding birthdays to come it is possible to harness the love, compassion, and support of those around me to do something worth while for others and to show people that the true celebration is in the lives of those who make you who you are.  To those who can learn and be inspired, I celebrate THEM. To those who teach and inspire me, I celebrate THEM. And most of all to those we can help, I celebrate THEM. I am truly beginning to compile reason for why I need to celebrate my birthday, and it begins not with me, but all those around me.