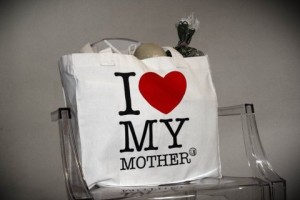 There is no question that I am a Moma's Boy and a Grandma's Boy. I used to love shopping with my mom and grandma. It was always fulfilling and meaningful to tag along while shopping, and it was really a fun excursion that allowed me to help and spend some quality time with them. The values of being raised by both my mother and grandmother in the same household is something that I deeply appreciate and am grateful for. So, when I was given a gift a couple weeks ago, I couldn't help but fall in love with the special present.
Nena Wuthrich, co-founder of Mother Earth Bags presented me with a couple of her signature bags. With funny slogans printed on the recycled and reusable all purpose bags, their message to the world is far from a joke. The premiss of the bags is to promote a reusable carry tote that would replace the hundreds of thousand plastic bags we waste. The fun graphic designs remind us that Mother Earth is what should be at the forefront of our consideration when it comes to minimizing our carbon footprint on the world. These bags give us a witty alternative to the tons of plastic we create, use and dispose of every year. By limiting our use of unnecessary plastics, we can being to help reduce our harmful effects on our environment.
So, what makes these bags more special than the Eco friendly bags already out there?
When the founders of Mother Earth Bags came together to release these sustainable bags they envisioned a deeper mission that goes beyond just helping mother nature. With the main focus on Mother Earth, the consideration extended to mothers, daughters, sisters and women in general to incorporate the appreciation for a life created and lives helped. Mother Earth Bags are made by the hard-working women of The Livelihood Shop, a center that employs underprivileged women in Manila. Located in Taguig, a special group of women get to make a living and create their own sustainability by making Mother Earth bags.
One of the slogans used by Mother Earth reminds us that we can do more than just refrain from using plastic bags, we can not only consciously save the environment, but we can save lives in the process. So, check out Mother Earth Bags and start using one.
"Use this Mother Earth bag as if life depended on it. Because it does."
We use our "I [Heart] my mother" bag every time we go grocery shopping. It reminds me of the feelings I get when I go help my mom or grandma as they shop. It is a feeling I miss when I am away from home, and I am glad they have instilled in me the values of helping when ever I can. Big thanks to Mother Earth Bags for creating such a product that promotes environmental and social responsibility.
"Mom, Nge Nge, Noreen… You would love these bags too! Sending some home." Love, Lex.
For more information please check Mother Earth Bags facebook page and visit http://mamaearth.multiply.com/ to purchase your very own Bag TODAY!