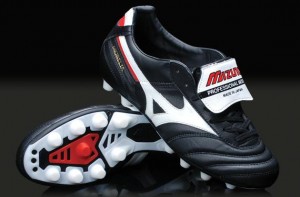 Ok. Now we all have our one favorite pair of cleats we hold dearly in the deepest depths of our hearts. The cleat you have grown to love and cherish. You know, that one pair of boots that you hold high above all, ones that you can take to your grave or fight to the death for. OK well, maybe not so far, but ones that you'll definitely spend countless pints arguing for. For the younger audience, go out and get a pair of these, you'll fall in love, and as for the pints you'll know what I mean when you a wee bit older. And for you all who spent many night reminiscing over a couple cold ones, engaging in heated discussions about college ball, pro and world travels, you'll have another for these cleats here.
So, I thought it would only be appropriate if the first ever footwear post on Spirrsblog.com be my vote for best cleat ever thus far. On the record, Spirrs Guy's cast for greatest boots constructed for the sport and athletes alike…the Mizuno Morelia Pro Japan.
Arguable, the best constructed cleat of all time, player approved and time tested, are the Adidas Copa Mudial. No doubt about it, truly a revolution in the craftsmanship of soccer cleats. But, if you have ever own a pair of these, you can attest that the construction and design does transcend the structure of the Copa's and the comfort, feel, and suppleness surely surpasses. The performance of these boots are stellar, and quite frankly unmatchable. Again, truly, and undoubtedly the BEST BOOTS EVER!!!
OK, Let's hear what you have to say about this one. Tell Us what your cast is for Best Cleats ever made. And if you haven't ever worn a pair of leather boots, please save your synthetics for an other vote. Cheers!