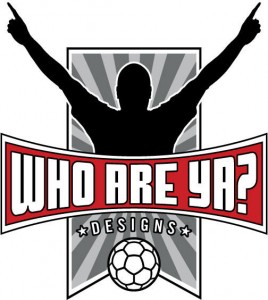 By now the trusty brand Who Are Ya Designs, has burst into the football scene making appearances in the media, on celebs, with pro players and on fans across the world.  I had a chance to catch up with creative director Chris Williams.  With big plans to release his seasonal designs, Chris explains a little bit more about the company and how a growing brand has larger plans than just selling awesome shirts: "Promoting the love of football in the US isn't the only goal of this t-shirt company. Who Are Ya Designs has teamed up with several non-profit organizations to help fulfill their missions. Seattle Scores, an organization which builds leadership and teamwork skills and boosts literacy through fun activities for under served children in the Seattle area and most recently UNICEF to help with the disaster in Haiti."
More About the Company: Who Are Ya Designs makes unofficial t-shirts for the football (soccer) supporter in the know. Irreverent and cheeky, Who Are Ya Designs is very responsive to what is happening in football today. If the ref makes bad calls during a match on Sunday morning…you can guarantee The Ref's a F%#ing Wanker shirt will be designed and up for sale by Sunday night. If the US taxpayers bail AIG out then Who Are Ya Designs will be the ones to "redesign" Manchester United's jerseys from AIG to IOU…"You'll Never Walk Alone" and "I'd Rather Walk Alone", there are plenty of designs for you to choose from. You never know where one of the Who Are Ya shirts is going to pop up…they've been seen on BBC, CNN, and if you ever tuned into
Fox Football Fone-In, you could have caught Eric Wynalda and Nick Webster wearing them too. More important than finding them on TV is seeing them at the matches. From Stamford Bridge to Wembley, these shirts have street cred.
Enough Chatter! Check Out WAYD's Newest Designs HERE.
The Spirrs Team is a Proud Supporter of new innovative products and services that have visionary goals of improving players, parents, coaches and the games as we know it.
Discover What's out there. Inform Yourself. Inform Others. Contribute to… Passing the Word Around. TM

Are You an ABC Supporter…?  Be "in the Know"