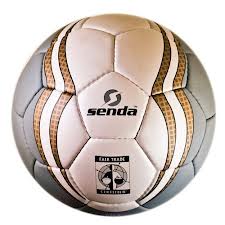 Much like the beautiful sport, in this ever growing society, we find companies that embrace the notion that the whole is better than any individual. In a world where consumer goods flood the market to gain competitive shares, its is important to recognize those that not only display passion for their products, but also commend those that share a social commitment that goes beyond servicing the consumer. These companies have engrained values into their visions and missions to improve trading conditions and promote sustainability to developing countries.
One such company, comes to us from Berkeley, California. Their name: Senda Athletics, makers of the Senda Fair Trade Soccer ball.  Their mission: To make quality Fair Trade soccer equipment that connects and benefits athletes, and to promote sports as a tool for development. Their vision: to allow young people build self-esteem through soccer, by having access to excellent coaches and soccer equipment.
Senda Athletic dedicates their product line with the commitment to:
Making high quality products that help players perform to their maximum ability
Providing fair wages and safe working conditions to those making our products
Increasing access to sports around the World, using it as a tool for social development
Minimizing our environmental impact with every product we make
After being in contact with CEO and founder of Senda Athletics, Santiago Halty, it is evident why Fair Trade was the logical option for his company's direction.  After studying economics in university and seeing the global impact of the sport, Halty recognized the significance of nonprofit work and successfully blended his company's objectives to bring a product to the market promotes youth development while supporting the development of countries that need sustainability.
The Beauty is in the Ball. Senda Athletics ensure that  their Fair Trade Soccer Balls are creative with the following:
All of Senda's soccer balls are top quality and certified Fair Trade. Fair Trade standards ensure that our ball producers meet social, economic and environmental criteria (the full standard is available here). These include ensuring that all workers in the supply chain – factory workers and stitchers – receive at least the national minimum wage; that there is no child labour involved in production; that the health and safety of workers is safeguarded. Furthermore, producers receive an additional sum of money – the Fair Trade Premium for community and economic development projects. Through the Fairtrade premium, workers and stitchers are able to improve the lives of their families and their communities' health, education and livelihood opportunities.
For more information on Senda long term commitment to social responsibility Check out their Non Profit Partners HERE.
To become a Senda Ambassador and promote similar values to your community Check out way to to Share the Senda product line and philosophy HERE.
The Spirrs Network is a proud support of Senda Athletics for their attention to global 'fair trade' and their commitment to the development of lives through Soccer.
Visit http://www.sendaathletics.com/ for all information and FULL product line.