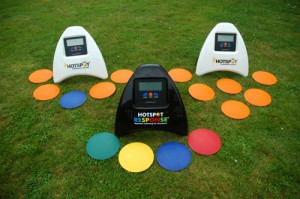 New Spirrs Product WATCH: the HotSpot from Games Education. Recently, I met up with Co-Founder and Director of Games Education, Fraser Harban, to chat a little bit about their New Training system. In the last few decades the emphasis on physical fitness has weighed heavily on peak performance. Scientific research, studies and physiological focus has gave way to a whole new era of performance testing.  The question becomes for the nations coaches and teams: How do we easily implement a testing environment and make it fun for our athletes?
Fraser, together with partner, Mike Crooks, looks to solve that problem with the HotSpot, a wireless electronic testing station that utilizes touch sensitive disc that can be placed in virtually any configuration.
How Does it Work?
HotSpots® communicate directly with a base unit that controls the timing and counting aspect of the system. The base station has two modes of operation, a "time" mode that measures efficient repetition of movement and a "count" mode that collates speed over a specific pattern essentially measuring technical efficiency.
About the Company:
Games Education is committed to providing accessible technology to the sports,fitness, education and leisure sectors. Our products aim to provide motivation through wanting and striving to improve every time we take part in physical activity whilst providing for a positive and purposeful experience. Whether searching for that extra 1% on game day or engaging in exercise Games Education aims to provide a solution for you.
"We believe our special combination of medical, coaching and technological expertise has allowed us to create a product and philosophy that is not only based on good scientific processes but that will ultimately lead to a more enjoyable and worthwhile training experience for both coaches and athletes alike. We hope you agree!"
The Spirrs Team is a Proud Supporter of new innovative products and services that have visionary goals of improving players, parents, coaches and the games as we know it.
Discover What's out there. Inform Yourself. Inform Others. Contribute to… Passing the Word Around. TM
For More Information Check out GamesEducation.co.uk
To See The HotSport in Action Click HERE.
What do you think of the HotSpot
? Please leave your comments, questions, concerns and opinions about this product below. Get the conversation started and keep the ball rolling… Let us know what you think!