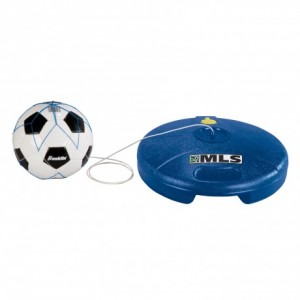 The Franklin Sports Company has had a long standing reputation for it's products in all sports. With it's collaboration and affiliations with professional leagues and iconic businesses, Franklin sports products have became a household name.
As a relatively new player in the world of soccer, Franklin Sports have identified themselves a competitive contender in the youth development sector in producing skills development and training equipment.  Their partnership with Major League Soccer furthers solidifies them in creating new and innovative products to help kids advance in the sport.
The Soccer Kick Return is a product that allows a player to kick a ball in a repetitive fashion without having to retrieve or fetch the ball once it is kicked. It illuminates the need to collect balls when shooting or passing.
"With this Kick Return Trainer Set, your little striker can get plenty of practice in front of the goal—solo or with friends—without having to chase down the ball, especially if there isn't a net."
The Spirrs Team is a Proud Supporter of new innovative products and services that have visionary goals of improving players, parents, coaches and the games as we know it.
Discover What's out there. Inform Yourself. Inform Others. Contribute to… Passing the Word Around. TM
For more information on the Soccer Edge, please visit www.franklinsports.com
What do you think of the MLS Original Soccer Kick Return Trainer
? Please leave your comments, questions, concerns and opinions about this product below. Get the conversation started and keep the ball rolling… Let us know what you think!