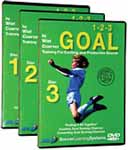 Does "Goal 1-2-3" resonate any fond memories for anyone? Or do you even recognize this title? I mean we see the words and combinations thereof in almost every soccer product and DvD out there, but this particular title comes from a very popular green cassette box released in 1989. Have you figured it out yet?
If your thinking the first set of training tapes by Wiel Coerver, you are right on. Yes, "Coerver" of Coerver Coaching. Now, world famous for his intuitive training method and his magnificent contribution to technical development, he and his team has expanded far from the realms of just a video and a book.
I have to say I really grew up on these sets of videos. Although then, with the limitations of technology and having to maneuver a VHS cassette deck to view area of interest on a video that had slow motion technology at best was a bit cumbersome, I did survive. I took notes and drew out little diagrams to remember technical moves and combination of more advanced skills. It was fun. I remember spending long hours rewinding, fast forwarding, slowing down and recording all the different little moves that I would later take on a small note pad to the park.
What a great set of technical instruction. This is one of the classics that leaves its marks on soccer's establishing history of skills training and technical development. So, a great big thanks to this series' contribution to my own development and I hope it continues to reach developing players throughout the world, inspiring them to be empowered by the great resources available.
More on Coerver Coaching, Training method, and skills development in later post. As for now, like many of the initial post. Cheers and special thanks. Stay tuned for more on everything Coerver.
If you want to get more information please visit Coerver Coachings Official website Here. Or, if you would like test the Coerver training method for a Free 30 day access, Click 30 day Pass.