Recently, we have looked at two similar products to the Training Aid category, namely the Soccer Kick Return and the Soccer Edge. These products look to increase training productivity by way of eliminating the need to fetch or retrieve balls that are being shot or passed.
Another similar retracting training product is the Soccer Medic. Cleverly advertised with the motto "Cure for the Common Kick" the Soccer Medic offers players a way to train shooting and passing without collecting balls, and its long elastic cord allows for control on its return. The Soccer Media is endorsed by Taylor Twellman, former Major League Soccer MVP. Below are the key features to the product.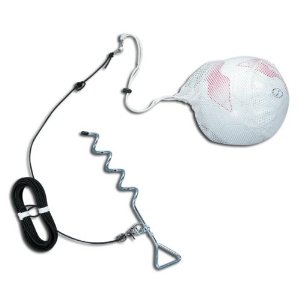 Kick-Medic Offers:
Maximizes soccer training time by 1000% by eliminating ballchasing.
Develops muscle memory for every type of soccer kick and soccer throw.
5 to 100 feet adjustable returning line is on average 70 feet longer than anything else on the soccer practice drill market.
Custom swivel minimizes tangling and allows for development of english.
Perfect for on and off season soccer training and youth soccer training.
Perfect for all levels of training or play, and safe for soccer athletes of all ages.

The Spirrs Team is a Proud Supporter of new innovative products and services that have visionary goals of improving players, parents, coaches and the games as we know it.Discover What's out there. Inform Yourself. Inform Others. Contribute to… Passing the Word Around. TM

What do you think of the SoccerEdge Bungee Soccer Trainer? Please leave your comments, questions, concerns and opinions about this product below. Get the conversation started and keep the ball rolling… Let us know what you think!