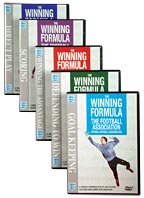 If you haven't had a chance to take a look at this book or these set of tapes, you really have to find some time to do so. Really some remarkable information gathered from soccer's history, cultivated and presents in the most direct and compelling way. This set of informational tapes not only sums up decades of soccer evolution and depicts the changing trend in soccer of the years, it also set the tone of the rapidly growing game in an era when soccer instruction seemed so indifferent. Truly, a break through in its time, providing the soccer world with invaluable technical and tactic instruction.
When I was in middle school, I remember when my father first brought home the set of VHS tapes and the book. Then, he often bought a lot of soccer material. Every week, I could expect a different package with books, tapes, or equipment to arrive in the mail. Exciting times for a kid who was always curious about new books, toys and things to watch. Anyway, I would watch these particular tapes and browse through the book meticulously taking notes on what I thought would be most useful to me at the time. Not the most typical thing to do during lunch time in the cafeteria at that age, but nonetheless it was fun and really helpful.
I would suggest certainly taking a look at this before you get any other newer tactical or positional DvD or book out there, because I think it truly sets a educational standard on what kinds of materials should and should not exist on the market. Although the series was created a couple decades ago, it still provides information that holds true to the game. Perhaps an updated Winning Formula is due? I'll be waiting.
Tell Us what you think of the series. Leave comments for all or email Us here.
Below are links for each DvD in the series.
Soccer Winning Formula: Defending To Win DVD

Soccer Winning Formula: Scoring DVD

Soccer Winning Formula: Goalkeeping DVD

Soccer Winning Formula: Direct Play DVD

Soccer Winning Formula: Winning The Advantage DVD
And it you want to check out the book, click below.
The Winning Formula: Soccer Skills and Tactics

The Winning Formula: The Football Association Soccer Skills and Tactics